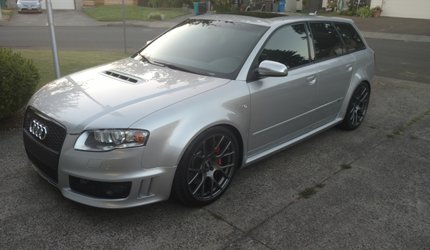 From humble beginnings....here's the RotorLab story
At RotorLab, our business model, our work ethic and our business philosophy enable us to create quality products at prices you can afford, and with customer service unlike what any retail shop is willing to do.
It's what has kept us going since the fall of 1997.
RotorLab had it's beginnings in a rather unconventional way--not as you might imagine.
RotorLab founder Rob bought his first '77 Rabbit in late 1989 and started working on it immediately (a car he still owns today!) That fast-growing love of H20 Vdubs led him to found the first true watercooled VW club in the Pacific NW in 1993, known as "Volksport NW"----which at one point counted well over 100 members. That club created and put on the first "Waterwerks" H20 VW shows in Redmond and Bellevue, WA in 1995 and 1996. By the late 90s, Rob moved on from the club and began to focus more on building custom Vdubs, specializing in 16V and G60 motor swaps and turbocharging the VW 16V platform. Eventually, he started applying his drafting experience to essential machining processes to begin what was, at that time, one of the only boutique/ niche-industry companies that made custom cross-drilled rotors exclusively for VW and Audi, anywhere in America. Within a year he and his silent partner were selling 20 and 30 sets a year of custom crossdrilled brake rotors as a small side business.
A move to California from 2007 to late 2011 saw the company slow in sales and research, although by this time the company had a number of repeat customers to 'keep the wheels turning'. Returning to the Pacific NW in November of 2011, the company picked the pace back up, developing all new patterns for the slew of new Audis and VWs that had entered the market. In late 2014, the company name changed to RotorLab and, in addition to several new rotor designs, they now began rebuilding, refurbishing and modifying the Brembo 17Z and 18Z calipers for various VW and Audi applications----which today are a staple of the company, having sold roughly 117 full kits, as of March of 2018. This is in addition to over 370 sets of rotors since their inception in the fall of 1997.
Still a small, part-time 2-man operation (which is unlikely to ever change), RotorLab focuses on close customer contact and personal service. We are able to offer superior quality products at very reasonable prices---usually well below retail. We can do this because we have virtually none of the overhead usually associated with a retail store: we own our own shop, our own mill, all our own tooling, we design our own rotor patterns through separate software (usually DeltaCad), and, other than the millwork on the 17Z and 18Z calipers, nothing is "farmed out" here. We dont have to pay shop costs, employee wages, health benefits, worksman's comp or state industrial, lease payments or separate commercial utilities....NONE of that. Which means our labor time doesnt "cost us anything"----which means you get a great product without getting nailed for retail prices.
This also means we can do things that no other shop will do for you---such as send you pics of YOUR calipers or rotors before they ship----not some bullshit "stock photo". The pics you get will be YOUR PARTS, so you can visually see what's coming before it ships. This business model also allows us to give you close, personalized customer service unlike any retail shop or mail order house. It's where we've built our reputation.
Rob's one-of-a-kind 2005 "B6.5" S4 Avant, with Stage 3+ 2.7T motor swap and full European OE RS4 widebody conversion.
See the build thread: