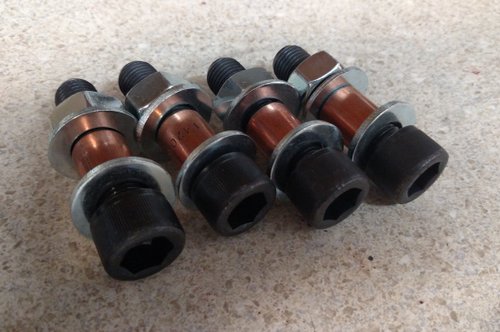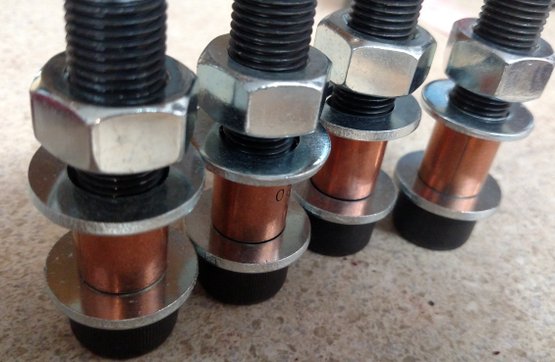 RotorLab Bolt Kit close-up detail, showing metric-fine 14x1.5 bolts, stainless washers and nuts and custom-engineered sleeves
Current Price: $42 plus shipping if purchased separately. $35 if purchased in conjunction with a set of our calipers.
At RotorLab we've developed a high quality bolt kit for VW and Audi applications. The factory bolts for these calipers is 16mm, whereas the bolts that hold calipers onto your VW or Audi strut towers are 14mm...so you need bolts with sleeves that are just the right size to shim up the difference.
BOLTS: Most aftermarket bolts kits out there, from places like RB Performance,
ECS Tuning, JHM, AutoDaySpa and others use bolts that are 14 x 2.0 thread
pitch. We believe this is far too coarse a thread pitch for this application. As such,
ours are "metric fine": 14 x 1.5---which has a 40% greater torque-holding capability.
The allen-head M14 bolts are also ISO 9000/9002 certified grade 12.9---about the
strongest available.
SLEEVES: One of the areas our bolt kit really stands out is our unique sleeves, which
are teflon-coated inside (to prevent binding up at removal time) and copper-coated
outside, to combat the corrosion that often is a result of the electrolysis that occurs
when dissimilar metals come into contact with each other (the steel of the bolts up
against the aluminum of your strut towers.) The low atomic weight and natural
anti-corrosive qualities of the copper coating on our sleeves works against those.
No other sleeves like them out there on the market today.
WASHERS: you get 2 plated washers with this kit, even though most applications
will only need one. Which side of the arrangement you use them on is up to you.
NUTS: And completing the kit is the high-grade stainless nuts. Many kits use just
standard black-iron nuts.
Bottom line is that the RotorLab kit matches or beats pretty much any kit out there,
feature and quality-wise, and yet at $35 for the set is a better price than pretty much
anyone's. Once again, we can do this because we dont have the overhead costs
of a retail shop....and we pass those savings on to you.